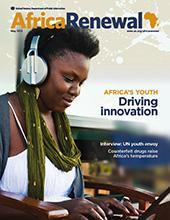 Publicada por la División de Estrategias de Comunicación del Departamento de Información Pública de Naciones Unidas, proporciona información y análisis de los principales desafíos económicos y de desarrollo que enfrenta África en la actualidad: la reforma económica, la deuda, la educación, la salud, la promoción de la mujer, los conflictos y las luchas civiles... Realiza un seguimiento de los debates políticos, proporciona un análisis de expertos y presentación de informes sobre el terreno para demostrar cómo estas políticas afectan a las personas y, destaca las opiniones de los responsables políticos, los líderes no gubernamentales y otras personas que participan activamente en los esfuerzos para transformar África y mejorar sus perspectivas en el mundo de hoy. Disponible on line aquí.
Última entrega
African youth demand a seat at the table Voices of young Africans are becoming difficult to ignore.
The hashtag revolution gaining ground Africa's millennials are using technology to drive change
Nurturing young leaders Training young African leaders can take societies to great heights.
Youth can be agents of positive change Jayathma Wickramanayake, UN youth envoy.
Music: Nigeria's new export Naija beats topping international charts, but dividends are "scattered"
Raphael Obonyo From poverty to the pinnacles of power.
Phumzile Van Damme A young MP with a mission Standing up for women's rights in South Africa's parliament.
Cape Town water taps running dry South Africa's second biggest city averts a water crisis—for now
Gwendolyn Myers A peace advocate Mobilising the young for peace and development.
Eric Kaduru Agripreneur with a passion Changing youth mindsets about commercial agriculture-
William Elong An ICT innovator Scaling up drone manufacture for a global market.
Gogontlejang Phaladi A social change activist "Stand up, rise up and push forward.... Refuse to be silent".
Bringing rural women to the frontline Phumzile Mlambo-Ngcuka, UN Women executive director.
Mission accomplished: 15 years of peacekeeping success in Liberia As the last contigents of peacekeepers depart, UN promises to remain engaged.
How we disarmed Liberian fighters Lt. Gen. Daniel Opande, first force commander, UN Mission in Liberia.
Women: Liberia's guardians of peace The role of women in bringing and sustaining peace lauded globally.
Africa could be the next frontier for cryptocurrency Experts say conditions on the continent are great for virtual currency
UN signals new era of partnership with Africa Increased attention may prevent conflict on the continent
South African tourism holding steady Tourists undeterred amid reports of historic water crisis in the country's second largest city.