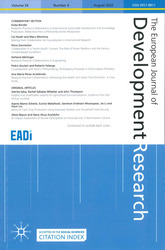 Publicación de la red EADI, European Association of Development Research and Training Institutes. Publica investigaciones llevadas a cabo en Europa o en cooperación con Instituciones Europeas, cuyos contenidos reflejan un nivel alto de debate y análisis en los diferentes aspectos relativos a los estudios sobre el desarrollo. La mayoría de los ejemplares se articulan en torno a un tema central monográfico. Pueden consultarse en Hegoa los números desde 1990. Sumarios aquí.
Última entrega
Delving into the Determinants of Default Risk in Savings Groups: Empirical Evidence from Ecuador. Pilar López-Sánchez, Elena Urquía-Grande, Cristina del Campo & Andrés L. Cancer
Production of Indigenous Food Crops: Implications for Children's Nutritional Status of Farm Households in Northern Ghana. Alhassan Andani, John Baptist D. Jatoe, Ramatu M. Al-Hassan
Reproductive Governance in a Fragile and Population-Dense Context: Family Planning Policies, Discourses, and Practices in Burundi. Joëlle Schwarz, René Manirakiza, Sonja Merten
Gender and Disability: The Experiences of Microaggressions Against Women with Disabilities in the Philippines. Christelle Juin Reduta Ancha
Trust, Efficient Contracting and Export Upgrading.Gideon Ndubuisi, Solomon Owusu
Municípios in the Time of Covid-19 in Brazil: Socioeconomic Vulnerabilities, Transmission Factors and Public Policies. Mireille Razafindrakoto, François Roubaud, João Saboia, Marta Reis Castilho & Valeria Pero
Unpacking The Nexus Between Broiler Contract Farming and Its Impact in Ghana. Richard Kwasi Bannor, Yaw Gyekye
The Role of Automatic Stabilizers and Emergency Tax–Benefit Policies During the COVID-19 Pandemic: Evidence from Ecuador. H. Xavier Jara, Lourdes Montesdeoca, Iva Tasseva
Consulta el índice completo aquí.