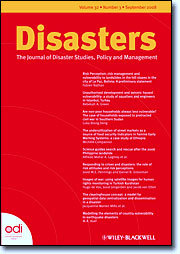 Publicada por el ODI, Overseas Dvelopment Institute y Blackwell's. Tiene como objetivo proporcionar un foro de alto nivel sobre desastres naturales y políticas de emergencia en todo el mundo, promoviendo el intercambio de ideas y experiencias entre sus participantes. Publica tanto reportajes y artículos como estudios académicos. Contiene referencias bibliográficas y de conferencias. En Hegoa pueden consultarse desde 1999. Resúmenes de los artículos desde 1997, aquí.
Última entrega
Vested Interest theory and disaster preparedness. Claude H. Miller, Bradley J. Adame, Scott D. Moore.
Towards guidelines for post-disaster vulnerability reduction in informal settlements. Brent Doberstein, Heather Stager.
Disaster management and the critical thinking skills of local emergency managers: correlations with age, gender, education, and years in occupation. Stacy L. Peerbolte, Matthew Lloyd Collins.
'The Ethiopian famine' revisited: Band Aid and the antipolitics of celebrity humanitarian action. Tanja R. Müller.
Media messages and the needs of infants and young children after Cyclone Nargis and the WenChuan Earthquake. Karleen D. Gribble.
Workplace response of companies exposed to the 9/11 World Trade Center attack: a focus-group study. Carol S. North, Betty Pfefferbaum, Barry A. Hong, Mollie R. Gordon, You-Seung Kim, Lisa Lind, David E. Pollio.
L'Aquila's reconstruction challenges: has Italy learned from its previous earthquake disasters?. Alpaslan Özerdem, Gianni Rufini.
Climate forecasts in disaster management: Red Cross flood operations in West Africa, 2008. Lisette Martine Braman, Maarten Krispijn van Aalst, Simon J. Mason, Pablo Suarez, Youcef Ait-Chellouche, Arame Tall.
Microfinance institutions and a coastal community's disaster risk reduction, response, and recovery process: a case study of Hatiya, Bangladesh. Gulsan Ara Parvin, Rajib Shaw.